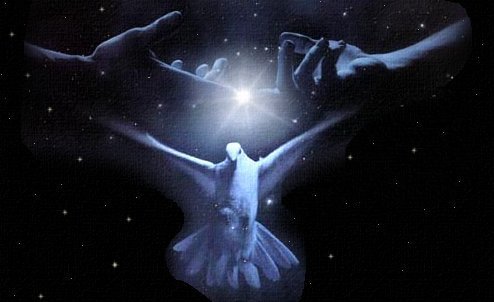 The power of love
Is seen from afar
The wings of a dove
Wherever you are

Gentleness guide you
To love that is near
Hold and protect you
Never a fear

For He is beside you
With all of His Might
With infinite mercy
So bright is His Light

Fly with compassion
His wings holding me
Softness and beauty
His Heart I can see

Sing to the heavens
With love we will send
Voices we lift up
His sacred Amen

Bow down before Him
With heart filled with pride
His Trinity Blesses
With wings that preside.
~~~~~~~~~~
~ Francine Pucillo ~
©used with permission
If you would enjoy using this poem on THIS BACKGROUND set (it was written for it) just e-mail Ms. Pucillo by clicking on her name and ask her permission.
Read more of her poetry here.
Mr. Hahlbohm would enjoy hearing from you if you use his art on your pages:
studio@inspired-art.com.
You may also obtain Mr. Hahlbohm's guidelines for using
his work on your site.
The set is link ware ONLY as it is a special artist set ~ you may use it as such provided:
1) The set is not altered in any manner whatsoever including
resizing, cutting, splicing, mixing and matching with other sets, etc.
No banners are to be made using this graphic, no web ring logos, etc...if you
need any of those things done please contact me and we can make
those alterations for a reasonable fee. But, please, NO one alters the graphics.
It goes without saying that it can not be used to make *other* graphics.
2) No part of it appears on any page with out the rest of the SET. You
do not have to use all of the set, but no part of it can be placed
with any other set. It may NOT be used as stationery or in any mail out group
mailings!
3) The logo provided is placed ON THE PAGE of the graphics and linked
back to http://www.moonandbackgraphics.com
Mr. Hahlbohm's site: http://www.inspired-art.com/
4) Commercial sites may not use this set.
The font is Fletch Wide
For instructions on how to set up the guest book graphics please see the
tutorial pages.
There are only the basic navigation buttons on this set. No matter what I did it just
seemed like I was interfering with the beauty of the art so I did the minimum.

Painting is ©Danny Hahlbohm, used with permission
Painting entitled Trinity
Midi is MY SWEET LOVE ©2000, Bruce DeBoer and used with permission